A little image heavy!
Sooz, of the Bead Buddies forum, came up with the idea of everyone contributing toward making Barbara Windsor a bracelet, as she'd heard that BW had lost a favourite bracelet some time back. As so many people wanted to get involved, this turned into making a piece of jewellery for various characters from the soap opera, Eastenders.
I chose Dot, and this is the pendant I created for her. The pendant is on an 18 inch snake chain - don't think you can see it in the photo.
I found it quite tricky! Originally, I had three of the focals on a silver wire choker but it didn't look right. So I made this pendant. Fortunately, I now have two focal beads I can add to my site this weekend - That's a silver lining!!
We also have a challenge/swap running on BB's whereby we make two mushrooms from whichever media we choose, and send it to two BB members and they reciprocate. These are my mushrooms, going to Sooz and Colette. I won't say who is getting which because I can't remember whose envelope each mushroom went in (and it would spoil their surprise if they read this blog before getting their little envelopes!)
And last, but not least, I had a request for a set of orange beads for someone's mum. I don't work with orange very often, but I hope she likes these.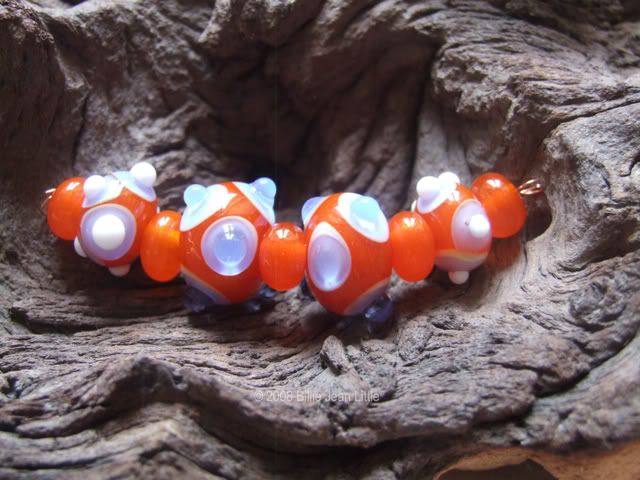 And these are for the young lad who requested the beads for his mum. I thought I'd try and make some "man" beads as I know he makes jewellery too and thought he might like to make something for himself.