Wow!! That felt like a very long time away. Daisy is back at school, in the afternoon as well as morning now, and I think it has been a shock to both Ruby and I how quiet the place is without her around. Well.. as quiet as it can be with Ruby demanding to be entertained in between wandering around saying forlornly how much she misses Daisy.
Have some pictures to share with you anyway :-D
As the summer has been all about having fun, Daisy requested some funny face beads so I had a play and made these...
And this is also my first attempt at a fish bead. Appropriately, he has quite a trout pout!
And more firsts!! My oldest friend, Louise, gets married on September 20th in the Isle of Wight to Brett (congratulations you two!!!!) and she asked me if I would make the hairvines for her and her bridesmaid to wear on the big day. I've combined some lampwork beads with swarkovski crystals and this is what I came up with. I've never tried anything like this before, but found a couple of pictures of hairvines on some wedding sites and worked out how they were made. Thanks also to the ladies on the Bead Buddies forum who steered me in the right direction for a swarkovski crystal supplier and what gauge wire I'd need. You're all stars!
The bride: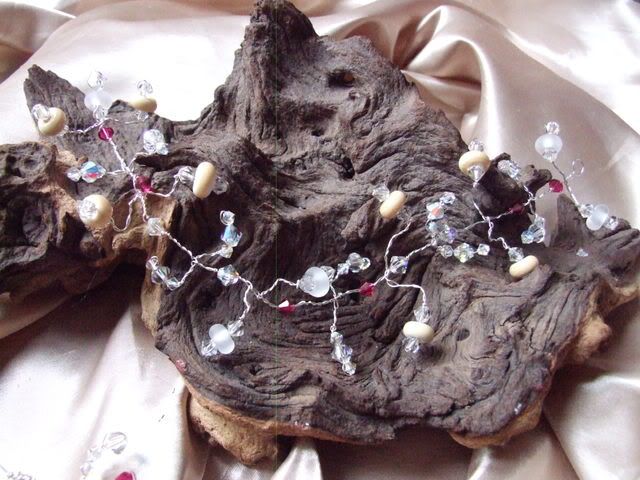 The bridesmaid: